Article on Scenario Collection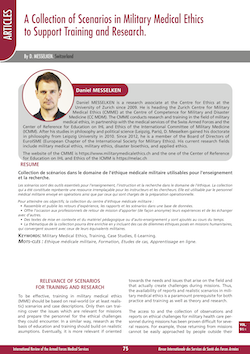 The International Review of the Armed Forces Medical Services has published an article that describes the MME Scenario Collection.
Since 2017, we take part in a project that creates an online collection of scenarios for training and research in military medical ethics.
The aim of this MME scenario collection is to provide deploying military medical personnel and those who organise trainging and education with a tool to better prepare for future missions. In order to do so, we collect and make available cases, experiences, reports, and scenarios in a neutral database. In order for the colletion to grow, we hope that we can convince those returning from missions to (anonymously or not) contribute their experiences and share it with others.
If you want to learn more, the International Review of the Armed Forces Medical Services has published an article that describes the MME Scenario Collection. You can read the article online via the following links: